My lovely friends Em at

And Nothing Else Matters

and Katie at

Punkin Heads and Dooda Loos

and I are hosting a once a month Blog Hop. We will do it on the

first Thursday

of every month.
This is for all of us to get to know eachother better and gain more followers :)
The rules of the hop are:
MUST

publicly follow each Host via GFC.
Each host will follow you back - so you're sure to gain atleast

3 new followers!
Please follow a few others in the hop and leave them a comment saying you came from the Tag-Along Thursday Blog Hop :)
You can grab a button if you wish as well :)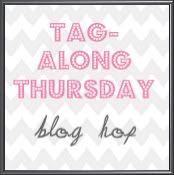 We have a Winner for the Bloom Bag!
I JUST learnt how to take a screen shot of just a smaller portion on my screen - so I was able to capture the actual number generator and the winners comment.
So here it is:
After physically counting 163 comments - this was the winner:
HUGE Congrats to Ashley!.
Ashley, you have 48 hours to claim your prize. E-mail me at
missmommy@live.ca
to claim your prize :)