Since becoming a mom, i've had to do things sometimes that I really didn't feel like doing.
For example, getting up in the middle of the night several times to feed a crying baby is not something I enjoyed doing for an entire year. I've had to miss events to stay home with my girls. I don't get great pleasure out of pushing kids in a swing in the park for hours. I don't enjoy taking 2 kids to the grocery store - when I could be in and out in 15 minutes but it takes closer to an hour when they come.
I've learnt over the past 5 and a half years that the girls come first and even though I don't feel like doing things at times, I do them because I love the girls. I do these things because they are my kids and as they grow up they will have these memories.
Today for instance is my day off. I changed my work hours to longer days to have 1 more day per week off - and that day is Monday. Mondays are my days to get the 1874 loads of laundry done, clean the house, prepare the meals for the upcoming 3 days I work longer hours, and maybe just maybe, I get a chance that day to relax.
Sunday afternoon I felt this cold coming on and before Sunday evening rolled around, I had a full fledged sneezing fit, sore throat, runny nose, my head felt like a brick and my ears ached.
So Monday morning came and I felt worse, but had already volunteered to going on a school trip with Eve's class. Not only was it Eve's class but it was 2 other Prep classes. So that was 60 plus 5 & 6 year old kids. YAY!. Great, because thats
exactly
what I want to be doing on my day off. I was dreading it, but had to go.
I went on the school trip today out of love for my beautiful 5 year old. Eve was beyond thrilled that Mommy was coming and as heavy as my head felt, and as much as I wanted to lay in bed all day and rest, I couldn't let her down.
Here are some pictures from our day:
(Although I took hundreds of photos, I am only putting ones of Eve up as I didn't ask permission from other moms in the class to put other children up)
Momma & her Joey
Wilma. Wilma is 9 years old and apparently pigs usually only live until about 6, so Wilma is very old!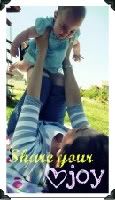 I'm linking this post up
HERE